When should we tour to the Cuc Phuong Garden?
– The period from December to April (dry season) is considered the most appropriate time to travel to Cuc Phuong National Park. At this time, the weather is cool, the intense rain has passed. You also should not travel on cold rainy days because at this time, the weather is wet and there are many mosquitoes that are not convenient to travel.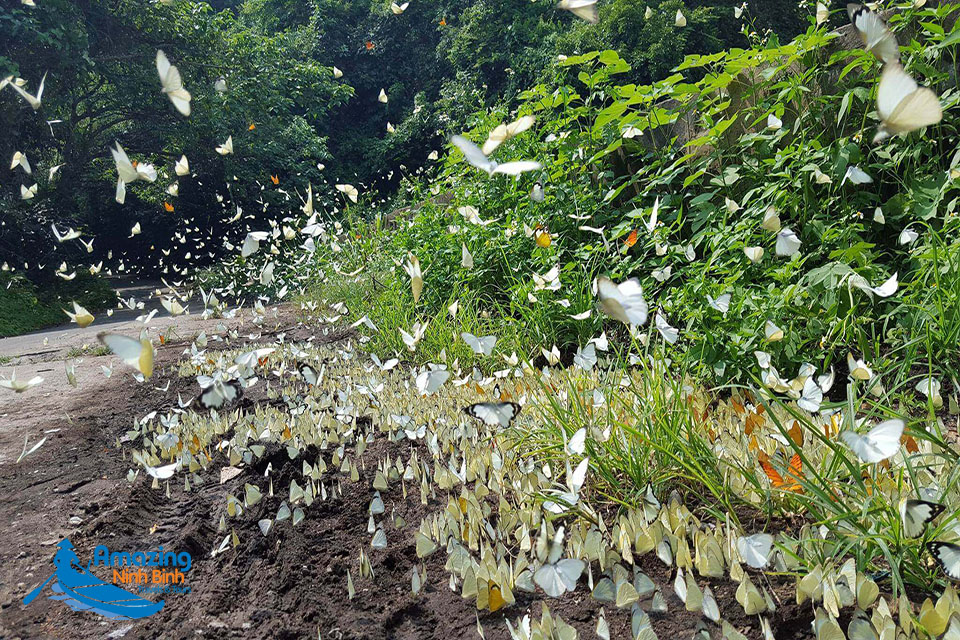 – The weather in May is quite dry, so you don't need to worry about Leeches or mosquitoes. Many places make visitors feel refreshed, extremely cool, the air is extremely fresh, just like the fragrant forests in the fairy tales.
– Right from the entrance gate, along a few dozen kilometers, the butterflies flying into flocks along the way to welcome you. You will have a chance to admire thousands of butterflies as in the fairyland.
There are four arterial roads moving to Cuc Phuong garden, starting from Hanoi, Ninh Binh, Hoa Binh and Thanh Hoa. You can go by bus or motorbike or you can go by self-driving car.
Hanoi – Cuc Phuong National Park
– Go by motorbike in the direction: Phap Van – follow National Highway 1A to the T- junction of Gian Khau (Gia Vien district) – go along Highway 12 for about 30km to the forest gate- to continue for another 20km to the garden attractions. Or you can go in the direction of the bus, to Me and ask for directions to Cuc Phuong garden. You are easily get lost if you believe completely milestone leading to Cuc Phuong!
– Go by bus: Catch the car from bus station Giap Bat go to Nho Quan – Me route, then take the bus to Cuc Phuong garden about 10km away.
– Go by motorbike: Go to Nho Quan, you pay attention to the 4km sign, then turn to that road. Just follow some curving way and don't turn anywhere. If you reach a slightly old and crushed concrete road, you turn right, the door to the garden is not far away.
– Take the direction of Ninh Binh – Hanoi to National Highway 1A in the way Hanoi – Ninh Binh 5km then turn left and follow the way to Hoa Lu Ancient Capital – Bai Dinh Pagoda tourist center – across the lake Dong Chuong and to Cuc Phuong. Or you go in the direction of Ninh Binh – National Highway 1A in Hanoi direction, coming Khau T-juntion, turn left along Highway 12A – Nho Quan town 2km – Cuc Phuong.
Thanh Hoa – Cuc Phuong
– Follow National Highway 1A in the direction of Hanoi – Bim Son town about 3km and turn left, then turn left at Pho Cat intersection and Trai Ngoc to Cuc Phuong garden.
Hoa Binh – Cuc Phuong
– From Hoa Binh town, follow National Highway 12B down to Nho Quan town, about 2km from Nho Quan town, turn right and go to Cuc Phuong.
Enjoy specialties in Cuc Phuong
– You can bring food from outside. You should do so because the dishes of the restaurants are not popular, the lowest price is VND 60.000. For example, calamari is very ordinary but it costs up to VND 200.000 and drinks cost up to about VND 100.000. If you feel no problem, feel free, the restaurants welcome you.
Accommodation
– Currently, cuc phương eco tourism has three areas of accommodation, food and entertainment: Park, Mac Lake and Central area. Each area has a separate apartment service or stilt houses with affordable prices and full amenities. More specifically, you can completely rent a camp in the forest for watching the night sky is very interesting.
– If you go back in the day or just drop by to visit, you do not need to worry about sleeping accommodation and food, you can prepare yourself.
For more information/details: ninh binh tour, hoa lu tam coc tour, bai dinh – trang an 1 day tour, bai dinh pagoda tours, ninh binh 2 days 1 night, ninh binh amazing tour